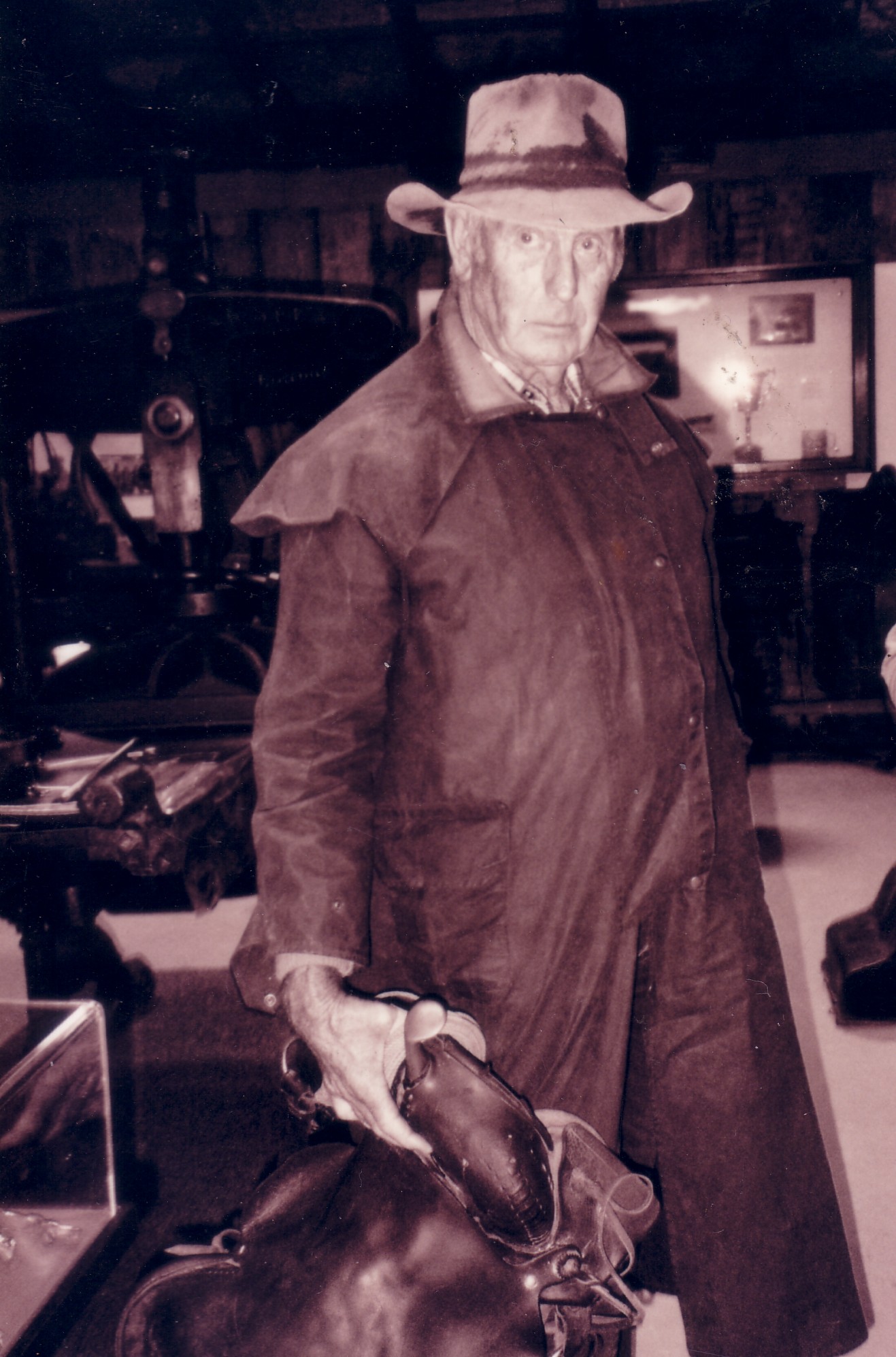 Graham Scully continues to talk to the people of the Snowy, and collect fascinating stories of the history of the area. Here is one of my favorites - the arrival of the first motor car in Cooma, 1905, compliments of Neville Locker:
Photo: Bill Ryall, Blacksmith. Courtesy of Graham Scully, 1990s
The photo you describe would be Bill Ryall (not Rial); he has been dead for a good few years but he was a regular at our Christmas functions, had a dry sense of humour, used to recite some poetry and tell a few jokes. He lived on the on the old family farm "Spring Plain" on the North side of the Snowy Mountains Highway about twelve km from Cooma towards Adaminaby. He was an interesting old fellow, known by the locals as the Sherriff as when out and about on the farm he always carried a .22 cal. revolver for shooting rabbits and he was a good shot too.
I have a great photo in the big shed of the first car to come to Cooma in 1905, a 1902 Panhard Levasser owned by Mark Foy, a well known Sydney storekeeper of the time. The photo, showing Foy and his car, was supposed to be taken at Ryall's Blacksmith shop in Cooma; however I never did get around to getting Bill to confirm this. (Ed. See photo below)
It seems Foy decided he was going to take his family on a car tour of the Snowy Mountains which meant at that time he was going to drive to Cooma, on to Adaminaby then Kiandra and the Yarrangobilly Caves. No Service stations around in those days so petrol required was sent up from Sydney by train to Cooma and then taken out and left at selected places by the horse drawn mail coach for when Foy would pass through.
Lots of photos of the trip and it seems all went well until on the return journey; the car broke down a few miles out of Cooma. Foy sent to Cooma for assistance and the locals, who had never seen a car before, did the best they could under the circumstances; they sent out a draught horse to tow him back to town. The story is that coming down the Royal Hill into Cooma, the locals came out of Royal Hotel on one side and Hain's Royal Store on the other side of the road at the foot of the hill, lined up on bothsidesof the road and as Foy and the car passed through gave him a slow hand clap. As far as they were concerned this proved that these new fangled inventions,the motor car, would never take over from the horse. No doubt most embarrassing for Foy!
He had just passed through the crowd when he came opposite Ryall's Blacksmith Shop and Ryall I am told, rushed out, pulled the draught horse up, then proceeded to walk around and around the car exclaiming, "this is amazing, this is amazing"; he had never seen a car before. Upon Foy enquiring what was so amazing Ryall said "this car thing is made of metal, I'm a blacksmith so I will be able to fix it for you; bring it into the yard".

Photo: Foy's late lamented motor car, © Neville Locker
While I knew the story and the picture confirmed what had happened, I was not too sure if it was actually Ryall's Smithy involved.One of Bill's sons Alfred looked at this photo a couple of years back, confirmed it was Ryalls blacksmith shop and told me the names of all the people shown. Photos are great but to know who the people are and have dates makes them so much more valuable and interesting.
Neville Locker, 2011

'