If anyone is interested in the geology of the region (and one of the webmasters is very interested) the resources below may help.
A good description of the geology can be found at the Australian Alps National Parks website.
To understand the maps, you will definitely need the map legend, and probably a Geological Timescale.
Geological Data for these maps has been obtained from Geoscience Australia. Hut locations have been derived from a variety of sources, including GPS points, KHA data and Google Earth. The accuracy of some huts is therefore 10m, whilst other locations may be out by 200m. No reliance should be placed on these locations.
All other data has been downloaded from Geoscience Australia.
To locate an area of interest select from the index map below. This map is also available for download,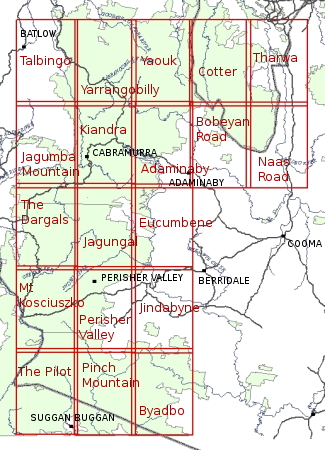 You can change the information displayed on the maps by expanding the Layer symbol in the table of contents. Each layer (feature type) or the layer labels can individually be turned on and off individually.
All Maps have been designed for printing on an A4 page. If you have a smart phone that reads PDF format files, simply upload to the phone, and you can carry the maps with you whenever you are in the park. A GPS or topographic map is necessary to find out your location in DMS format.
Enjoy the adventure!