The Kosciuszko Huts Association (KHA) is a voluntary association formed in 1971 to assist with the conservation, management and reconstruction of huts, homesteads and surrounds within Kosciuszko National Park (KNP) in southern NSW. Our activities expanded into Namadgi National Park (NNP) in the ACT in 1990.

Over the past forty two years KHA has carried out maintenance activities on most of the 90 or so remaining huts and homesteads in KNP and NPP. A network of caretakers, both groups and individuals, make annual inspection visits to their allocated hut or huts to document the material state of the hut and to develop work plans. They also undertake small repairs as needed.
The caretaker network is managed by KHA, with KHA providing the liaison between the caretakers and state and territory land management agencies.
The objectives of KHA
To protect and enhance the cultural heritage values contained within the high country of NSW and the ACT, through
Conserving historic huts and associated structures,
Providing input into government planning processes,
Creating heritage awareness amongst the general public,
Undertaking historical research and making it available to the public, Australia Museum, National Library and public organisations.
The NSW Government requires KHA volunteers working in the park, to indemnify it against any third party legal action resulting from KHA's activities. KHA has obtained insurance cover for the benefit of members and pays for it though membership fees.
Financial KHA members are welcome to attend hut work parties. For upcoming workparties, please check the calendar (you need to be logged in to see it) or contact the relevant Hut Maintenance Officer (HMO). 
Constitution of the Kosciuszko Huts Association
| | |
| --- | --- |
| From this.... | To this! |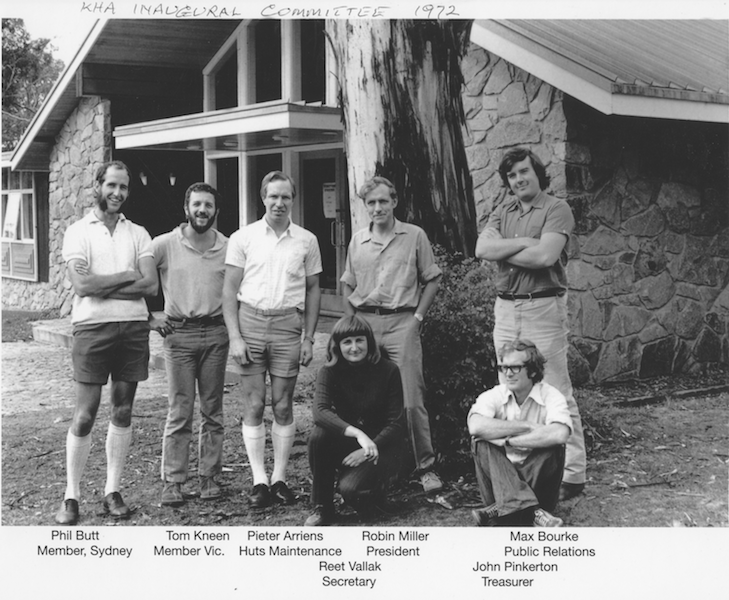 Presidents
Life Members
 
 

Paddy Pallin 1981

Ted Winter 1981

Bob and Sybil Story 1988

Reet Vallak 1988

Klaus Hueneke AM 1992

Harry Hill 1997

Deidre Shaw 1999

Jack Palmer 1999

Alan Bunsell 2000

Maurice Sexton AM 2000

Graham Scully 2000

Pauline Downing 2002

Barbara Seymour 2004

Jerry Gregg 2004

Noel Gough 2005

Jane Wheaton 2007

Bob Moon 2012

Ian Frakes 2012

Clive Richardson 2014

Pat & Sue Edmondson 2014

David & Sylvia Mitchell 2016

Pip Brown 2016

Narelle Irvine 2016