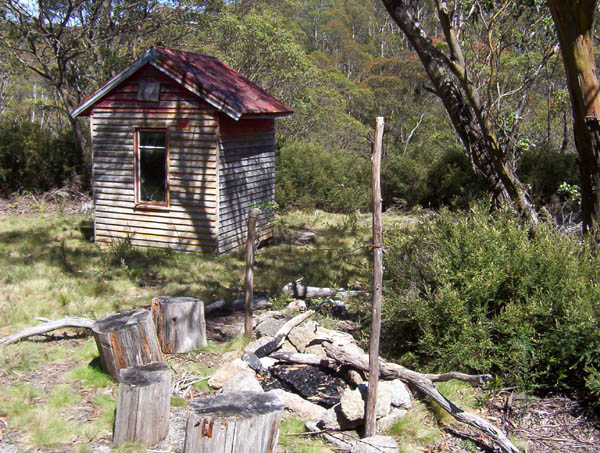 Located upstream from the Tin Mines, by about 3Km on a spur fire trail. The turnoff to the hut is not obvious until you are right at it. Look just beyond the second creek crossing on the firetrail. Burnt in 2003
Charcoal Range 1:50 000 mapsheet
Photo: Olaf Moon, 2002
Also known as Moyungal.
Brief History
The original hut was built by the SMA for hydrologists and was very large (about 15m square). The remaining hut was used as a guaging station and was built in the 1950s.
There was no log book in this hut, so the frequency of visitation is not clear. The hut no longer exists.
Construction
The remaining hut is weatherboard, about 2.5m square, with a pitched iron roof and wooden floor.
There are two single bunks in the inner room.
References
KHA Reference is 2706
KNP POM is L.116.
There is not a conservation study for this hut.
Page updated 12 June 2010.