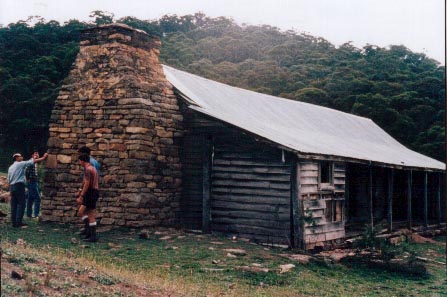 Located on the old Bobyen Road and shown on the Yaouk map. It is an easy walk from the new road to Adaminaby.
Photo: Di Thompson, 1969
History
This was the second building on the site, but was demolished by the Parks service in 1971, as it was considered to be unsafe. Today, it would be fully restored.
The first building was owned by James Ritchie and John Gray, when they held the leases from the late 1830s. John Gray sold the holding to his manager, Charles McKeahnie in 1844 after Gray went bankrupt.
McKeahnie soon sold his sharee (the other being to Alexander Crawford) to William Brayshaw soon after Brayshaw's marriage to Crawford's daughter, Flora.
So, the Crawfords and Braywshaws jointly ran the Bobeyan Valley for many years, though the Crawfords soon moved up the valley to the Old Station. The last Brayshaw to live here full time, was Richard, born in 1865. He sold the property to Noel and Greg Luton in 1952.
This building was built in the late 1800's and had a separate kitchen and living areas from the bedroom wings. Unmarked graves are nearby.
Steve Brayshaw's Collection of related photographs can be seen here.
Construction
Originally built of slabs and weatherboards with a shingled roof, this was later covered with iron. The internal walls were variously lined with hessian ceilings and walls of T&G or wattle and daube. Plans of the site show other buildings.
References
Matthew Higgins Namadgi Sites p4.
KHA Reference 1709 (1997).
Many others
Kosciuszko and Namadgi National Parks North Map
Profile updated 1 October 2012.