Locked private lodge located in the Bulls Peak Ck area of the Gungarlin River valley, on Snowy Plain, at GPS UTM 631223 5996549.
Also known as GJ's. It's at alt 1555m as a sign proclaims.
History
The hut was built in 1989/90 period by retired (2012) Canberra solicitor Ian Gillespie-Jones. Interestingly its right at the time Bogong was demolished and also Snowy Vale built. He bought the land off Bryan Haig in 1984. Gillespie-Jones land is Parish Gungarlin Portion 35 and it's of 320 acres, and includes Bulls Peak Lodge and Flanagan's Hut.
Originally the owner tried to graze cattle but gave up due to the ferocity of the wild dogs. Bulls Peak is locked. The land sits on a saddle of a spur off the Munyang Range which is along the route of an old bridle trail that went towards Grey Mare
Construction
The hut is as fairly modern structure, with a tin sheet and colorbond exterior and well maintained. It's serviced by LPG cylinders and a large water tank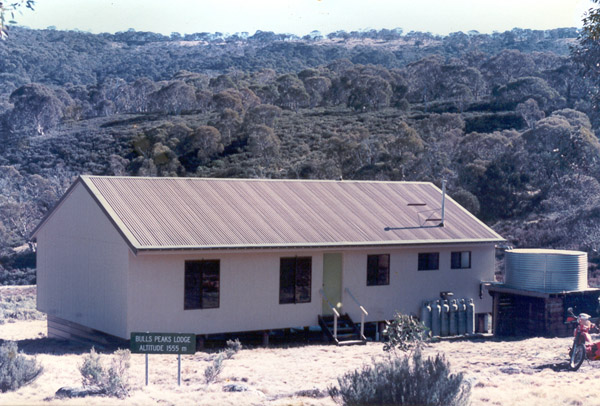 References
"On the Edge of the Wilderness" by Bryan Haig Pp14-16. ISBN: 0646000578
Photo: Gary Duncan, 1991
Profile Last Updated Sep 2013