Located at Swindlers Spur, Mt Loch, and is about an hour's walk from the Mt Loch carpark.
Turn right at pole 60 and walk to pole 94 to find it. (The poles are 40m apart). On map Feathertop at GR 141081. (Dibbins hut is the next, 400m lower at pole 181). Restored 2007.
Photo: Gary Duncan, 2003
Also known as The Charles Derrick Memorial Hut.
History
This hut was built by the Wangaratta Ski Club in 1967, in memory of Charles H. Derrick, who set off on a solo cross country ski run from Mountain Creek on 3 September 1965. His objective was to ski the full 52kms to Mt Hotham in a single day, but didn't make it. Since, probably only a few dozen have achieved the trip in winter.
Re-knowned for its unique water tank, inside the hut.
The 2003 fires burnt passed close by. The hut was restored in 2007 by VHCHA members.
Paddy Pallin, Charles Coppa and Rex Cox September 1968, Vallack Collection.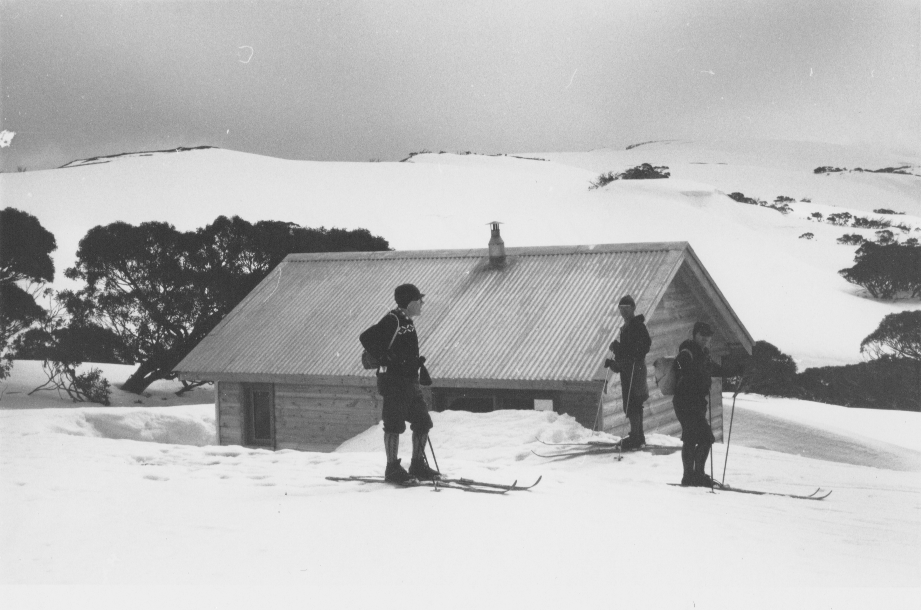 Construction
Built of painted weatherboard, with an iron roof, it sits on stumps, like many other huts in Kosciusko. Tongue and groove boards are used. It has a slow combustion heater and water tank, plus a bush toilet nearby.
Caretakers - none known.
References
Hueneke Pp 110, 234
Magnsussen Pp 33 - 34
Profile updated 1 January 2018. IF