Information supplied by the Bright Historical Society
The dredges shut down at midnight-on Saturday and resumed 24 hours later. Success depended upon the experience and ability of the winchman, who needed a comprehensive knowledge of alluvial mining; his job was to determine how much bottom to lift and to treat the wash. Additional men were required to attend to water races, tailings, fire wood, and the like, and box boys. employed to clear surplus stones from the sluice boxes, were paid thirty shillings a week.
When two dredges were operated by the same company a rationalisation of labour requirements was achieved. Wood for the boilers was cut in five-foot lengths and cost ten shillings a cord (of 40 cubic feet) to cut and cart. Part of the boatman's job was to transfer wood from stacks to the dredge. The cost of operations for a single dredge was up to 15 ounces of gold a week for wages, firewood, stores and maintenance.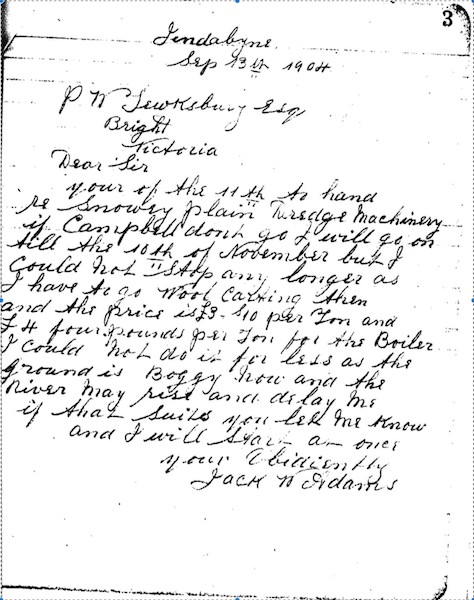 An electric light plant was a necessity; for example, the Buckland and Murray plant included six arc lamps and 30 carbon-filament incandescent lights; it was essential to have good light at night for effective and safe operation.
Dredges were tremendously intrusive to the environment: not only did they despoil the land and muddy the waterways, they were also very noisy. The screech and rattle of cables and buckets were familiar sounds to those living in the vicinity of the dredges. The clattering, smoking monsters, brightly lit at night, steadily chewing away the river flats, gave much concern to fanners with an eye to the long term - and they probably frightened the horses. But to the miners and traders of the valley they were ships of gold - making money to keep the local economy alive. They brought new promise of prosperity with the new century of Federation Australia.
PEARSON TEWKSBURY
Pearson Tewksbury dominated dredging in the Bright district in the hey­ day of the industry in the first Federation decade. He was born at Yackandandah and had very little formal schooling because of ill-health. At fourteen he became an apprentice watchmaker in Sydney, then tried travelling salesmanship selling tea. He became a watchmaker in his own shop at Muswellbrook in New South Wales, where he also took on a bicycle agency and made a great success of it. Trouble with his eyes forced him to give up work for two years, and early in 1900 he came Porepunkah to stay with his sister and her husband, Mr and Mrs A. G. Croft, to recuperate, just when the first dredge commenced.
Tewksbury was broke as a result of the long illness, so he thought he would try his luck at gold. He learned how to pan off a prospect and set about sampling some ground. Soon was convinced that dredging the Porepunkah fiats was a practical and profitable proposition and he took up 100 acres with the intention of putting a dredge on to it. He then set about, with great resolution, to raise the necessary capital. He went to Sydney, saw the sharebroking finn of Randall and Wallis, and with their assistance began the difficult job of raising £15,000. The Maori Queen had not demonstrated great initial success, other companies had failed to attract capital: people were sceptical about the new method of wirming gold.
Ovens Valley Dredging Co
With persistant hard work Tewksbury raised the money within six months, formed the Oven Valley Dredging Co in Sydney, and soon the Austral Otis Engineering Co of Melbourne had the Ovens Valley dredge built under the supervision of Mr Richardson. The pontoon was 76 by 32 feet and six feet deep and cost £1300 to build. The 20 horsepower boiler that cost cost £980 supplied steam to the specially-built winch, costing £750, and the 16 horsepower engine. Dredge buckets were 4.5 cubic feet capable of discharging 12 a minute. The all-up cost of the plant and preparation was £7078.13
As managing director and the major shareholder, Tewksbury brought expert dredge operators from New Zealand, including J. McNeil as dredgemaster, and commenced dredging in March1901 immediately to the east of the Porepunkah township near the Church of England, about a quarter of a mile from the river channel.
Although reasonable yields were obtained, profits were were not good enough to warrant continuing on the lease, and the company soon faced liquidation.
Before the crucial meeting of the company, one of the directors, Mr Murray, accepted a cheque for £3000 from Tewksbury to leave without voicing his conviction to liquidate. Tewksbury had great faith in himself and his ideas and he took a gamble; he persuaded the other directors to limit their further liability and let the lease and plant to him on tribute, so that he could work at his own expense and pay the company 10 per cent of gold won. He discharged the old crew, hired local men and undertook the very difficult task of moving the plant to a new 120-acre lease on the river, at a level 22 feet below the original ground. The move was made by dredging through the ground building a series of dams, and it was accomplished without incident but much worry for the entrepreneur.
In six weeks they made £600 profit from the new location. Tewksbury then put the money to the credit of the company and magnanimously asked them to cancel the tribute. A dividend of£1100 in 1904 was the first of many the shareholders were to receive, amounting to £15,00 in from the Ovens Valley venture.
Tewksbury Dredges
The Ovens Valley dredge continued to earn dividends and soon Tewksbury was looking around for more land suitable for dredging. Machinery for the Tewksbury Gold Dredging Co on the Ovens flats below Porepunkah anived in December 1904. This plant cost £4,000 and had a similar bucket chain to that of the Oven Valley. Commencing in 1905, the dredge was very profitable, with 1382 ounces and dividends of £2474 in the first year. The six-month term to 30 June 1906 produced gold worth £3028 and dividends of £1512, representing a return of 60 per cent on invested capitalP This dredge treated part of Woolley's property and price's paddock near the Wobonga Bridge.
The pontoon for the Tewksbury Freehold No 1 dredge at Porepunkah was completed by Mr J. Moulds in October 1905 and the plant began in Harry Winter's (Dalbosco's) paddock February 1906 in an excavation undertaken under Mr J. Miller's supervision. After six weeks they were able to pay a dividend of £2/10/- on each £100 share. In August 1906 the Freehold No 2 plant began operation in Weston's paddock at Porepunkah, obtaining 75 ounces of gold in the first ten days and 101 in the first 10 days and 101 in the fourth week. Tewksbury paid £15 an acre for Henderson's property at Porepunkah at that time. These dredges had 5 cubic-foot buckets operating at 16 discharges a minute, driven by 22 horsepower engines. In 1907 they produced over 3000 ounces of gold and paid £2486 in dividends. In 1900 Eurobin plant began downstream of Porepunkah.
By the time Tewksbury left Bright early in 1908 he had five dredges in the Bright and Porepunkah area, one on the Buckland and at Freeburgh. Always up to date and never willing to waste time, he bought a motor car in 1905 and drove from one dredge to the next, keeping direct personal control over all operations. His was the first car to reach the top of Mount Hotham, in 1905.
The following gold to the end of 1907
| | | | | |
| --- | --- | --- | --- | --- |
| Tewksbury Dredges at Bright | Onces of Gold | Acres | Dividends | Capital |
| | | | £ | £ |
| Ovens Valley | 8,146 | 88.5 | 7,344 | 14,687 |
| Tewksbury Gold Dredging | 3,985 | 32 | 5,937 | 6,500 |
| Tewksbury Freehold No 1&2 | 5,131 | 66.5 | 4,690 | 11,300 |
| Eurobin Gold Dredging | 706 | 10 | | 6,500 |
| Freeeburgh Gold Dredging | 159 | 2 | | 8,000 |
| Total | 18,127 | 199 | 17,971 | 46,987 |
| | | | | |
| Buckland River Gold Dredging | 4,784 | 75 | 3,212 | 20,500 |
| Grand Total | 22,911 | 275 | 21,183 | 67,487 |
The watchmaker turned capitalist was very successful. In 1987 values, the gold won amounted to about $13.7 million, and dividends amounted to about $1.3 million on a capital investment of some $4 million. Dredging was a much sounder investment than reef mining, while it lasted: dividends kept coming at a good rate of return.
Tewksbury the Man
Pearson Tewksbury operated his companies from an office in Gavan Street until he left Bright early in 1908. His secretary and personal friend, Hugh Eyton, previously an accountant and share broker in Tasmania, joined him in 1906 and remained with him until 1926 when Eyton died.
Pearson Tewksbury was single minded about dredging, shrewd in business but not ruthless, as illustrated by his biographer, Vince Kelly. He tended to shun publicity about his gold returns, and, in fact, most companies kept their returns to themselves. In 1905 when there were 16 companies or syndicates at work in the Ovens Valley from Myrtleford, only eight permitted their returns to be published week by week. This attitude perhaps had much to do with the prices they were asked for the land they had to buy to keep their plants going. If a land-owner in their path saw them doing well, a high price would be asked, but if the dredgers could bluff him into believing there was little gold, the price would be more reasonable.
Tewksbury had several experiences with 'blackmail', as Kelly put it. However, it is easy to sympathise with the fanners who had to sell out and watch their land being destroyed. When Tewksbury needed to get access to Lawrence's 100 acres at Porepunkah in about 1903 he made an agreement to buy it for £1000, although the farm and small weatherboard house occupied by the Lawrences and their daughter was worth £300. When it came time to exercise the option, he paid over the £1000, but consented to the family remaining in the house until he needed to dredge the land.
Lawrence boasted that he had the better of Tewksbury until the dredge returns were made public, and then he railed against the grasping and covetous nature of the new owner. Lawrence died a little later and when the dredge men approached Mrs Lawrence to vacate the house, she threatened them with a shot gun. Tewksbury could have taken legal action but instead he left the mother and daughter alone and dredged around the house. When the mother died a couple of years later, the daughter was just as adamant, and he tolerantly left her alone.
The story was different on the adjoining 100 acres belonging to the Risks. Only 20 acres were needed but he offered to buy the lor for £10 an acre. When the owner demanded £20, Terwksbury decided to have the Warden settle the value of the 20 acres he wanted. The Warded made an award of £20 an acre for the 20 acres, and then Risk asked Tewksbury to buy the rest at £3, getting a total of £640 instead of the original offer of £1000. They too refused to leave until they were evicted, and the house mysteriously burned down the night before they left. But Tewksbury had insured it!
In December 1907, when the Tewksbury family were making ready to move to Melbourne, an invitation was put out to the children of the district to appear at the local oval on Saturday afternoon for a spin in the car. Between 2 and 4 pm, Pearson Tewksbury drove 50 circuits of the oval with loads of excited young fry, who also were regaled with sweets from the driver.
In January 1908 when he left Bright the employees of his dredges and the Pioneer mine presented him with an inscribed silver prospecting dish with a gold insen: a tribute to the man who had brought prosperity to them and to Bright. At the farewell social in the town, he said that he had introduced £60,000 in hard cash into Bright and that £80,000 was won by it. He was still unrepentent about the land, although he was sorry to have to admit he left a bad monument at Porepunkah, in the form of stacks of unsightly and useless washed gravel left by the first dredging methods. He was glad that new methods left the land in a better condition, and he had an idea to plant 2000 wallnut trees on dredged land.
Pearson Tewksbury set up his office in the Equitable Building in Collins Street, from which he visited his mines every week for many years. He went on to greater things, with mining interests in many places and many other business interests, including the introduction of Yellow Cabs to Sydney and Melbourne. In 1910 he bought the Oriental Hotel in Collins Street, Melbourne, and lived there with his family.
POREPUNKAH DREDGES
Junction No 1 and 2
The Junction Dredging Co at Porepunkah was the first to seek land for a dredging area, but an application by James Hayes of Quamby, Essendon, in October 1888 was not granted, but in November 1899 he was successful. In January 1900 Mr Molyneaux was appointed to supervise boring on the Junction Dredging Co leases. Their dredge was built at a cost £5446 and had 4.5 cubic-foot buckets discharging at 13 a minute driven by a 26 horsepower engine.The plant, fitted with electric light, commenced late in 1900 under the management of William Telford on the south side of the Ovens just downstream of the new (1985) bridge. A 14-day trial run producing a very good 80 ounces. At first they had problems with old sunken tree trunks, but soon Mr Telford had everything in first-class running order. They paid the first dividend in the district from dredging, £563, in 1901, and a second of £2592 in 1903. From that time dividends flowed steadily.
William Telford was an experienced dredging man from Roxburgh, Otago, New Zealand, where in 1894 he became master of a steam-driven dredge called the 'Roxburgh'. Later he joined his brother George to build dredges in California and Colorado in the USA, returning to new Zealand in 1898. After further derdging in the Haikaka River he answered an advertisement for dredgemaster of the Junction dredge at Porepunkah.
---
Narrative on tape
Graham Scully
18th March 1991
Recollections by Ross Bolton on goldmining at Diggers Creek.
Ross and I were talking this afternoon about doing another trip up to Diggers Creek hopefully some time in Autumn of next year. We thought we'd camp overnight in Davey's Hut, so that we could have plenty of time to look over the Diggers Creek area, find Charlie Carter's hut site and do a little bit of mapping of the header dam that used to be existing on Dead Turkey Flat.
I asked Ross about the header dam being on Dead Turkey Flat because it seemed strange to me that they would put a header dam on a tributary rather than on Diggers Creek itself. Because I though that the creek itself would have more water than the tributary. Ross says the reason that the header dam was put on Diggers Creek was because of the height. To put one on Diggers Creek you'd have to go too far up the creek, it would be too far to build the races, whereas the Diggers Creek, sorry, the Dead Turkey Flat site had the advantage of height.
There were apparently two lots of water races down on Diggers Creek, one on either side. The Turkey Flat site supplied the water race for one side of the creek, that is the left hand side of the creek going down and another dam somewhere up beyond Con Bolton's hut site collected water which was then taken in a race down the right hand side of the creek as you descend.
Another interesting point that emerged, Ross says that up to twelve hundred men were working and looking for gold around the Snowy Plain area early this century. I'll need to check with Ross an approximate date on that. Ross also mentioned site that I had not been aware of before, apparently somewhere around Round Mountain which is the round mountain near Kalkite Gap and in a creek called New Chum Creek. Henry Willis has referred in fact to gold mining around New Chum Creek on past trips that I've done with Henry.
So future research might look at having a look at gold diggings around New Chum Creek and Round Mountain.
I also asked Ross about stories associated with the gold dredge on the Gungarlin River. Ross confirmed what Harold Hedger had told me that a rogue named McAlister had salted the area so that the mining lease could be purchased. It was purchased by a company who then went to considerable expense to bring in a steam boiler and a gold dredge in pieces. Ross told me that his father Harry and Uncle Tom Bolton were paid to do a lot of the preparatory work. Firstly they were paid to dig holes, test holes, along the Gungarlin River and it was apparently in these holes that McAlister would drop some gold dust from time to time. So that when a prospective buyer came he'd be shown to a hole and told "try that one" which he did and found gold.
Another job they were, Harry and Tom Bolton, were employed on, was in assembling the dredge and thirdly in cutting wood for the boiler. They cut wood for the boiler over about a four month period and there were heaps of timber all around the area ready to be carted down to the boiler, but it turns out it was never used because the dredge only operated for a week and they went broke and it ceased production for ever.
Something between eight and ten men were employed to run the dredge.
Just a few extra points. McAlister was apparently a resident of Jindabyne, well known for being a bit of a con man and a smooth talker. Ross recalls that McAlister also swindled some money out of one of the local Wallaces some time before the dredge episode. Apparently McAlister skipped town soon after, just as soon as the deal was sewn up about the dredge and was never heard again.
The other bit to Tom and Harry Bolton story was that as soon as, fairly close to when the dredge looked like being ready to start operating, Harry Bolton said to Tom Bolton "Listen mate I think we better get our pay and finish up, because if we wait until this thing starts we'll never get our money."
So they went to the boss and told him they were finishing up and asked to be paid as so they were paid. They did get their money.
Transcribed by Pauline Downing
30th March 1993