Burwood Scout Group, which also produced Len Beadell, writer of several books, and surveyor and builder of roads in Central Australia (including the Gunbarrel Highway), nurtured Charles'
1920 - 2019
In 1935 he made acquaintance with Paddy Pallin in his small shop on the first floor above Wynyard Station. Between the wars there was not much gear available excepting ex-disposal from WWI. Only the wealthier types could afford to purchase an oily Japara Kiwi Jacket, and until Paddy started manufacturing them in Australia, a cape groundsheet of oiled Japara was the only other option. Down sleeping bags cost more than two weeks wages, and those that couldn't afford this luxury took instead two blankets off their own bed held together with two blanket pins. In those days bushwalking was a cheap entertainment for most people.
In 1957/58 Charles took his first trip to the Snowy after his return from the UK. The scouts conducted a Snowy Venture from Three Mile at Cabramurra to Johns Plain below Charlotte Pass. This gave him his first taste of the High Country. Navigation was by a sketch map put out by the Tourist Board 1" to the mile. The Australian Army map (1:63.360) with 50ft. contours, available at the time of the Snowy Scheme, with as much detail or more as on the present 1:50000 maps. Around the time Guthega was half completed, the SMA one inch to the mile map, with 200 ft contours, covered the Snowy Mountains with some extensions into areas such as the Pilot Wilderness, with obvious concentration on places of interest to the dam builders, and a bit uninformative elsewhere. He took up ski touring from Alpine Hut, where there was usually enough snow for beginners, visiting Whites River Camp, several fibro huts with raised wooden floors and ablution blocks on concrete. Some slabs of concrete, odd bricks and bits of corrugated iron remain at the site. Charles used manufactured skis with a hooked binding although some could afford Norwegian skis.
There was agitation among most users of the huts; rumours of huts being burnt and removed. Charles attended the first meeting of KHA at Sawpit Creek. Paddy Pallin was one of the instigators concerned by the loss of huts.
When caretaker groups were talked of, the North Kuring-Gai Venturers Unit opted to look after Alpine. It had been used by Outward Bound and had a huge food dump. This had to be checked out. It included 4 gall tins of dried onions, several tins dried potatoes, and 4 gall tins custard powder, some flour, rolled oats and soup powder. The hut was cleaned and organised and poly pipe installed from a nearby spring to provide running water. At that time a vehicle could be driven as far as Kidman's; everything was then backpacked to Alpine. After Alpine Hut burnt down in 1978, there was no great enthusiasm for Charles in helping to caretake another hut. Instead he became interested in the compilation of the Huts Lists. A couple had been made up, but Charles would spend between 2 to 7 days wandering around
---
VALE CHARLES WARNER
1920-2019
It was in the 1990s when I first met Charles Warner - it was he who 'dobbed us in' (Camden Bushwalking Club) at an AGM as potential caretakers when Graham Scully was President. There had been difficulty in finding caretakers for several huts and Charles sussed us out as a group. Today three of us still care for Daveys Hut. I thank Charles for that incredible opportunity that led to us becoming 'family' to many of the Boltons of Snowy Plain.
Charles lived in Picton 25 kilometres from Camden and he was invited to speak at one of our club meetings. He was a modest man with a high intellect and a nice bloke to spend time with. Along with authoring books about knots and ropes and bushwalking in KNP he was instrumental in composing the HUTS LIST that was given to each member of KHA in the past.
He walked all over the mountains checking the relevant compass points. Charles and I stayed in contact by exchanging Christmas cards. I had not received one for a couple of years and was unable to find any news of him or contact him. As his age was approaching 100 years I had an inkling that he had passed on. Pip Brown received a call from Picton Post Office
advising her of his passing. His newsletter copy as a Life Member of KHA was always posted to him. The snippet from the Wollondilly Advertiser is proof of his energy at age 95!
He danced and choreographed dances for the Picton Scottish Dancing Club whose members and those from nearby Highland clubs cele-brated his life with a Scottish ceilidh dancing to Charles' own choreography.
Group member, Linda Brown told me he was active up to his 99th
birthday in July 2019. The club gave him a celebration lunch. Charles always lived alone in a second storey flat but was still driving until his eyes failed him slightly - as he lived Charles passed away quietly.
A really lovely man. I was lucky to know him so well.
Pauline Downing
August 2015 Charles Warner was surprised at his Scottish Country Dancing 95th birthday party by Bob and Rhonda who played live music for the group.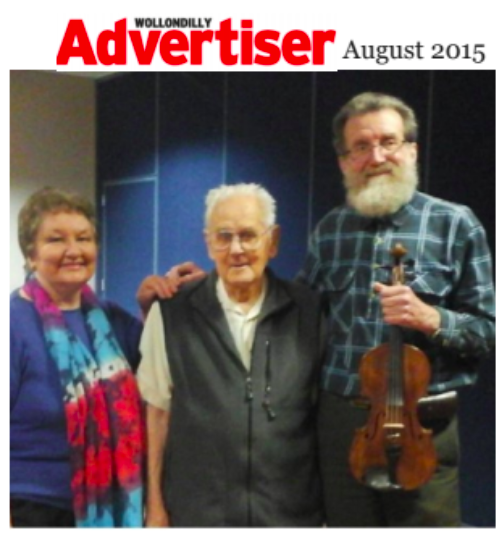 Charles Warner may have just turned 95 but he is still dancing with the Picton Scottish Country Dancing group. The group surprised Mr Warner with a birthday party, cake and live music at their weekly classes at the Picton Bowling Club in August.
Mr Warner was born in 1920 in Sydney and did clinical biochemistry and bacteriology during World War II and later joined the CSIRO to research digestive physiology in animals. After retiring, Mr Warner wrote guidebooks on bushwalking, knots and rope work and he has had a lifelong interest in Aboriginal rock art.
He was first introduced to Scottish country dancing when he lived in Scotland for three years in the 1950s but only took up dancing in Australia in the 1990s.