Written by Gwen Hubert, daughter of Ossie Wellsmore and sister of Don.
Ted Rogers came to the district from Victoria, from whence he came on the railway to Nimmitabel with sheep. He stayed in the district doing various labouring jobs such as fencing. At some time he was working on Snowy Plain and Nimmo, and got to know the McPhies at Nimmo.
Photo: Ted Rogers and Jack McLaughlan outside Teds Hut.
Ted selected land at Paupong, right down onto the Snowy River, by Paupong Creek. This meant we were his nearest neighbours. Ted lived in a two roomed hut which came from Snowy plain or Nimmo and was transported to Paupong . It was a simple vertical slab hut with a corrugated iron roof.
During the 1920s and 30s, the rabbits were bad around Paupong. Ted had a team of work men and was given jobs of digging out rabbits. The Elliots had a lot of rabbits on their 1200 acres, so they paid Ted 3/6 an acre to dig them out. He and his team got them out at Elliotts until there were only two left. JohnElliott paid Ted £1 each for them.
Ted also got the job of digging out rabbits for some of the Boloco farmers, such as Roses and Cogans.
There was one of Teds workers he didnt get along with and he had a fist fight with him. He was Billy Shiels.
In 1922 Ted got lost in the bush at the Gullies. He wrote a poem about his experience.
When Ted first came about the Dalgety area, he was in the bar of the Harry Quills Dalgety Hotel when he challenged a man to a fight, (having a few drinks on board), by announcing that he was the Binalong Bully and the Wyalong Pug. Unfortunately Ted was not as good as he imagined himself to be, and two hits, one to the face and Ted hit the ground. He always wanted to fight when he was drinking.
Ted lived alone in his hut further along Paupong Creek and often walked the two miles or so to our place. He had yarns of robbing bees nests in the bush, of his efforts at gardening etc.
He had quaint ways of expressing himself. If it was snowing he said They are plucking the goose up there today
Ted appeared to be part aboriginal with red curly hair and fair, freckly complexion. About when this photo was taken I was Teds barber whenever he needed a haircut. He liked my haircutting efforts and also admired my hedge cutting skills, which I suppose are not far removed from one another"if you can cut hair , you can cut hedges. He never owned a car but had a horse and some sheep. He kept in touch with the outside world by means of a very good battery operated radio, because of course he had no electricity, nor did he have water laid on"none of those mod cons for Ted . Most of us didnt have those conveniences anyway.
When Ted needed his susplies (supplies) as he called it, he would appear on the horizon, tramping along in his hobnail boots, to our place. There was a time when he had an aged and poor horse and rode on a broken down saddle to order his susplies.
Teds supplies were a source of amusement to us kids and to Uncle Cliss who was an excellent mimic. The order was made on our telephone to the shop in Dalgety, and mostly consisted of tins of jam, flour, powdered milk , matches, kerosene for his lamp, a few vegetables and bit of fruit, tomato sauce, tins of this and that, a loaf of bread and some dried yeast. And not forgetting batteries for his radio.
He would ask that the goods be sent on the mail from the shop in Dalgety. If we didnt bring the box of goods to our place then he had to walk to the mailbox to get them, a distance of five miles at least. Sometimes he would get a local carrier to bring his order to his hut, and this would bring on a rash of jokes about the carrier bringing a tin of jam and a sack of potatoes tied on to the back of the truck for Ted .
The sheep belonging to Ted had to be shorn and as he didnt have a woolshed , nor could he shear, they were shorn at the Top Wellsmore place in the early days . These sheep werent very popular, because they were usually lousy and black with ticks. I can still see Ted with his little mob of sheep , bringing them to be shorn at our place , once we got a woolshed that is , and riding on his old horse. He had dogs too.
It was a very lonely life ,away down in the bush, with no one to talk to, so Ted developed the habit of talking to himself. One time he hurt his ankle, maybe a sprain, but he was heard to talk to his ankle saying, What are you gonna do, bend over, break off or stick in the bloody ground?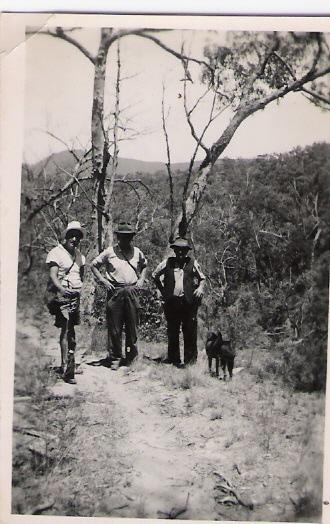 There were friends who visited from time to time, such as the Ewarts from Melbourne, who roughed it with Ted in the old slab hut. Ted would entertain them to a spot of kangaroo shooting or a tramp to the River for fishing. Jack McLaughlan, was another visitor, an Irishman from Tipperary who worked for the Wellsmore family and ,who sometimes walked to Teds place for a day off from his milking and gardening duties.
They played cards and enjoyed each others company. The loneliness of the solitary life in the bush got to Ted at times.
Visiting the hut one day Dad discovered a suicide note. He was obviously very depressed about his situation, having no food and very little money at the time. Dad rode home and returned with some food for him, to help him. Mostly Ted was rather ungrateful for help given. He would say things like If you happen to be riding past here and you see the flies going in and out of the cracks(In the walls of the slab hut), then you know Im dead.
He had a gun and it was an ideal place to help yourself to kangaroos for food and/or the tanning of hides for rugs etc. Kangaroo tail soup was on the menu, as well as fish. He did some tanning in a cask with wattle bark.
The table in his hut had a piece of hairy leather wound around each leg to prevent the ants from getting to his jam. Ted would also have wild honey from native bees nests. He made his own bread and it was good too.
Another skill of Teds was growing his own vegetables. He had a garden fenced in to keep out the rabbits and wombats, but it must have been hard work keeping it going with no water laid on. He had to carry water from the creek, as he had no tank.
If you asked him what he had in his garden, he would say, Ive got bloody beans, bloody potatoes, bloody carrots and bloody beet- bloody- root.
Ted got lost for two days and two nights in the bush, and about this turn of events he wrote a poem, quite a good one too. It was an ability unexpected in a man such as Ted. Still, there were times when Teds ingratitude showed.
We were bringing Ted home after a day at the Dalgety pub, where Ted had been imbibing freely. We had a Dodge ute, we were in the front and Ted rode in the back, under the cover, with a few of his groceries.
When we got to the creek where the house paddock gate had to be opened, Dad got out to open the gate, drove through, and just at that juncture, Ted decided it was time for him to walk home in the dark.
He clambered out, Dad said, Get back in Ted, because you are staying with us. Ted blundered away into the darkness, Dad grabbed him and heaved him into the back of the ute, then hopped in to drive off when Ted jumped out again, ran away and hid.
Dad gave up and we arrived home to see a fire across the creek on the side of the hill, where Ted had made his camp for the night. His only reference to that episode was a complaint that Dad had broken his watch chain when he had heaped him into the back of the ute , where it had caught on the cover attachment studs!
Another episode of ingratitude was a situation which occurred when Rex Cameron and Cecil Caldwell brought Ted home from the pub. They had to drive down a rough road over creeks for two miles past our place to get him home. When they thought they were leaving , Ted demanded they have a drink with him, and when they declined Ted got out his gun, loaded it and was intending to do them in if they didnt accept his drink. I dont know if they disarmed him or had the drink , but it was an awkward situation for a while.
My mother was always kind to Ted, giving him cups of tea and a meal. When he was leaving to go home Mum would load his leather bag that he carried over his shoulder with goodies such as pickles and jams she had made, a few chops , whatever she had there. One time she asked him if he would like a piece of cabbage to add to the collection, and he said Im not going to hump that home, Ive got enough to carry as it is. Mum was rather taken aback.
Ted called Mum by her name Lila but when he was being lofty and offended he called her Mrs. Wellsmore.
It was a struggle to make ends meet for Ted, and when it came time to get the pension to sustain him, Ted wouldnt do it until he was desperate for cash. His reason for not applying for the pension was because he didnt know his mothers maiden name. Thankfully someone got him out of that dilemma.
There seemed to be no family associated with Ted, no relatives at all. Ill health finally took its toll on him and he passed away in 1964, leaving his all to my brother Don, and he was laid to rest in the Boloco Cemetery.
The old hut still stands, even escaping the fires of 2003.