Peak performer was down to earth, too
Sydney Morning Herald, September 26, 2009
TED WINTER was Australian pole vault champion in the days when the pole was of solid timber or bamboo, the bar was steel and vaulters landed on their feet in sand or sawdust. Winter fashioned his poles from blue gum saplings before graduating to bamboo.Ted Winter, 1909-2009
When he died, aged 100, in June, he was Australia's oldest living Commonwealth Games representative. His daughter, Bronwyn Winter, still has his blazer and tie from Sydney's 1938 Empire Games, as they were called. Athletes were given the tie and could buy the blazer if they could afford it.
Edwin ''Ted'' Jeffery Winter was born to Charles Winter, an engine driver, and his wife, formerly Bertha Doyle, in the gold mining town of Canbelego, between Nyngan and Cobar in western NSW. He went to the Canbelego convent school but after the town burnt down he worked on a sheep station, Wilga Downs, where he avoided school and spent a lot of his time rabbiting.
The family moved to Port Kembla in 1920 and Winter attended Port Kembla Primary School, Wollongong High School and went to Sydney Teachers' College in 1929. In 1931 he became the one teacher at the Goonumbla school, near Parkes, left after a few years to work around NSW and, towards the end of the 1930s, was one of four physical training assistants employed by the state government as the nucleus of a national fitness movement.
After finishing third in the 1930 and 1932 national championships and second in 1938, Winter was fifth in the 1938 Games, vaulting 12 feet 9 inches (3.88m). His personal best of 3.93m (when the world record was 4.54m) was set in 1939, just before the outbreak of war. He was NSW champion seven times and national champion in 1947 and 1948 but World War II robbed him of his best years in the sport.
The introduction of aluminium poles, followed by today's carbon fibre poles, and the modern thick foam landing bags and fibreglass crossbars have allowed vaulters to achieve heights well beyond Winter's dreams.
Ted Winter had met Edith Noble at Brookvale, where he was lecturing teachers on physical education. They visited her cousin, Jimmy Reilly, in 1941 - he died when the German raider Kormoran sank his ship, HMAS Sydney, in November that year. He was 21. Then Pearl Harbour was bombed. Thinking that the world as they knew it was about to end, Ted and Edith sought special permission under the Marriage Act to marry with one week's notice. They did so in December, at Newcastle, and she had to resign her teaching position.
During the war, Winter helped plan the evacuation of children from Sydney - he thought of walking them over the Blue Mountains. After the war, he taught physical education, then completed an economics degree at Sydney University at night, and trained as an accountant.
He joined the Australian army teaching corps in 1953, became a captain and carved his own parade baton out of a piece of wattle.
After working as an official at the 1956 Olympics in Melbourne, Winter taught science at Manly Boys' High until retiring in 1968. He gave up pole vaulting at 80, after injuring his ankle. As a cross-country skier, bushwalker and horserider, he didn't want to ruin his chances of skiing that winter. He continued to ski until he was 85.
His mindset, shaped by the Depression, encouraged him to recycle, garden, fish, build, hitch-hike, survive in any weather, travel and sleep rough.
In the 1970s, he restored many of the wooden huts in Kosciuszko National Park left behind by the Snowy River stockmen. His book of poems, Mountain Verse, was about the Snowy Mountains and was published by the Kosciuszko Huts Association. A street in Jindabyne, Ted Winter Close, is named after him. Paddy Pallin, the outdoor adventurer, believed Winter knew the Snowy Mountains better than just about anyone else.
Towards the end of his life he loved watching, at his Springwood home, television replays of Australia's Olympics and of the world champion vaulter Steve Hooker.
Edith died in 1998. His friend, Beth Wyatt, died soon after him. He is survived by his children, Bronwyn and Joel; and their families, including two grandchildren.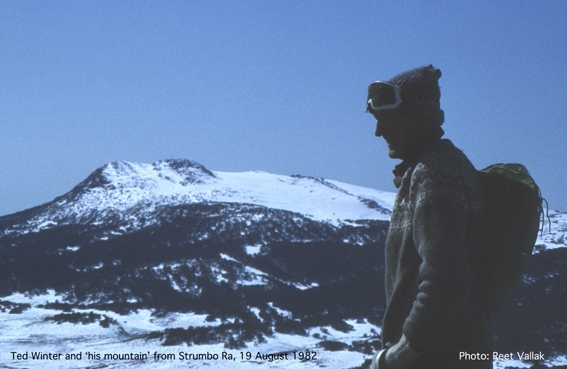 Ron Bendall and David Tarbotton