In the winter of 1899 a party travelled by horseback from Jindabyne to Snowy Plain, Diggers Creek.
Photos: Charles Kerry

They stayed overnight with John Bolton (Senior) and his son Tom, both of whom were guides for Charles Kerry two years earlier in the first winter ascent of Kosciusko. From Snowy Plain they headed up the Brassys then across country to the Grey Mare Mine (Bogong Mine) where they stayed for several nights in the hut of the mine manager, Mcalister, before doing a return day trip to Jagungal's summit and return, the very first record of this achievement.
The photos extracted from the pdf article show a view towards Kosciusko from Jagungal summit, the mine managers hut and the steep climb up the Brassys. The full article is worth a careful read as much of what the author claims is at times questionable and at other times authentic.
From Wikipedia: (this page no longer published)

On 22 December 1857 a group of British mountaineers met at Ashley's Hotel in London. All were active in the Alps and instrumental in the development of alpine mountaineering during the golden age of alpinism (1854"1865). It was at this meeting that the Alpine Club was born. One hundred and fifty years later, the Alpine Club continues, and its members remain extremely active.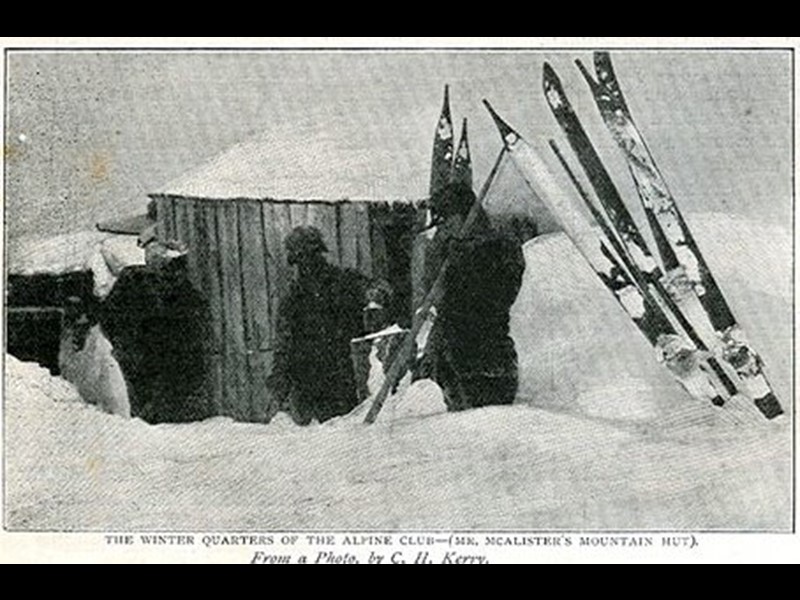 For many years it had the characteristics of a London-based Gentlemens Club, including a certain imprecision in the qualification for membership, said to have been 'A reasonable number of respectable peaks'. By the mid 20th century however, the club had evolved into the UK's senior mountaineering club.
The Alpine Club's Archivist has informed us that
"... we have no trace of Richards ever being a member of the Alpine Club, and our records for this period are pretty good. Not sure why it is, but we get an awful lot of people doing family research, adamant that their ancestor was a prominent AC member, but have to disappoint them."
It therefore appears that Richards claim to be member of the Alpine club was false.
It is also curious that he does not mention John and Tom Bolton, the miners with whom he stayed at Snowy Plain, were guides two years earlier on the first ascent of Kosciusko in winter. This calls into question the truth of his claim to be the first in the scramble to reach Jagungal's summit, especially after his admission that on the way "I was left considerably in the rear".
Nevertheless its a good read, especially for those who have crossed to Grey Mare in poor weather, in the teeth of a westerly gale and whiteout conditions. How unprepared were they compared with with the equipment we have today.
Very accurate however was the description of hypothermia (an unknown term then, they called it snowsleep), sitting on a lump of snow and "counting crystals and wondering if they were alive", and despite their inexperience they skied from Grey Mare Mine to Jindabyne via Snowy Plain, collecting their horses and reaching Jindabyne at 1.30am the next day.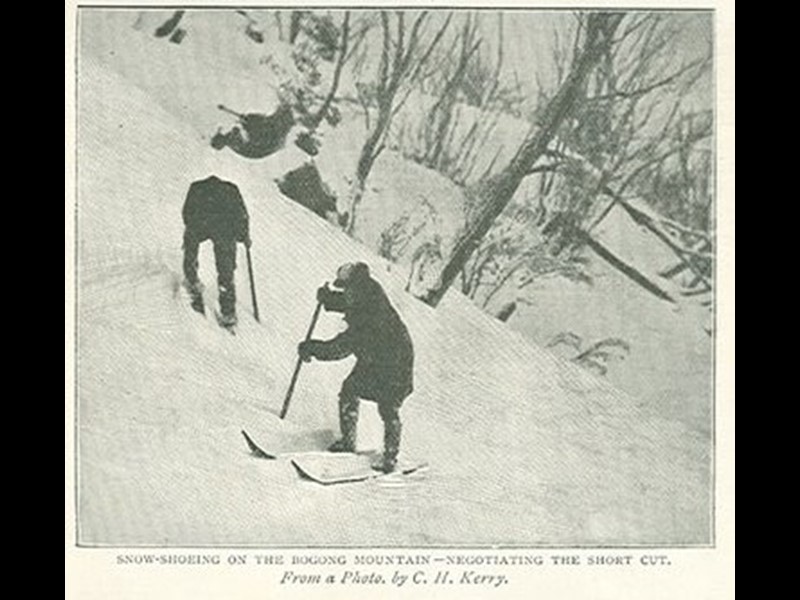 Despite author's bias, a truly valuable rare record of 19th century skitouring in Australia's alpine country.
Graham Scully
KHA Huts and History subcommittee
Note: There seems to be some confusion over the name of the group. The UK Alpine Club does not mention any trip to Jagungal, and further research is needed. (6 December, 2020)