Bulls Head
Shelter
Bulls Head Shelter is located 200m south of the Piccadilly Circus intersection, where Mt Franklin Road and Brindabella Road (the Canberra to Brindabella/Tumut road) meet. There is no camping allowed on this spacious site, as it is a part of the Canberra water catchment area.

History
A number of buildings have existed here at Bulls Head in the past. This is the current shelter, not the original hut. Previous buildings have been made of timber and used for a variety of purposes from road crew support, to catchment surveys and forestry.
The shelter is in the newer section of Namadgi National Park.
Construction
The Bulls Head shelter was designed to stand the worst of winter weather, and may be used for shelter by people whose cars have become stuck in snow.
Therefore it is unusual, in that the walls are all of stone, and the flat roof of clip lock galvanised iron.
References
KHA Reference 0504 (1997).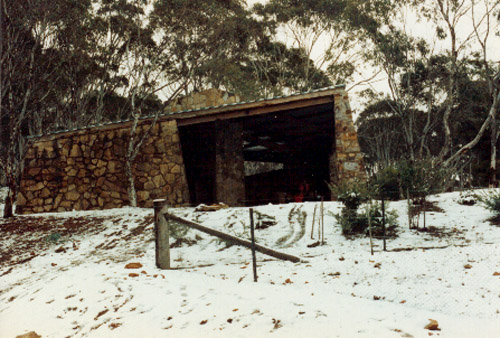 Photo copyright Olaf Moon, 1989
Last update 3 March, 2015.