Tennent
Homestead
To get there (and avoid a serious scrub bash), walk about 1.5 Km up the Alpine Walking Track from the Visitors Centre, and turn to the right, where the arrow sign is, to a fence corner, with a roll of wire hanging on the corner post. Follow the fence line down to the powerlines (where there is a new gate), and turn hard left, to follow the 4WD trail under the powerlines. Keep immediately to the left of the new fence. After climbing a small rise past a lone pine tree on the left, you will see the homestead in a small hollow.
The Tennent homestead is about three kms to the west of the Namadgi Visitors Centre, and just inside the later extension to the NP.
All buildings except one, were burnt down in the 2003 bushfires.
Brief History
There were five buildings at the site, the first being built in the early 1890s. It is unique in Namadgi, having rammed earth walls. The roof to this building has recently caved in, so the walls are rapidly deteriorating.
The other buildings were built more recently. The main home is the building shown above in the photo, and was built in 1950. Of special interest is the shearing shed, which was originally a small vertical slab hut (whose end walls are still visible) but was then extended to its final form. It was the primary loss from the bush fires.
Note also the original "Furphy" water carrying cart in the main courtyard.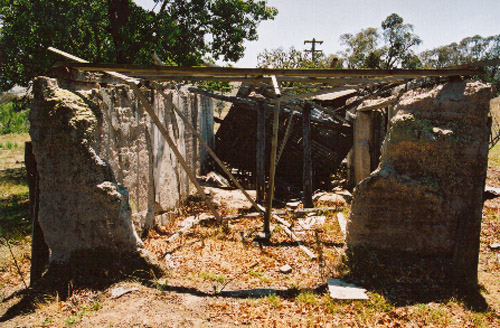 The photograph above was taken in January 2002, and shows the original pise (mud) home, from the 19th century. The walls need immediate covering to protect them from erosion during heavy rain.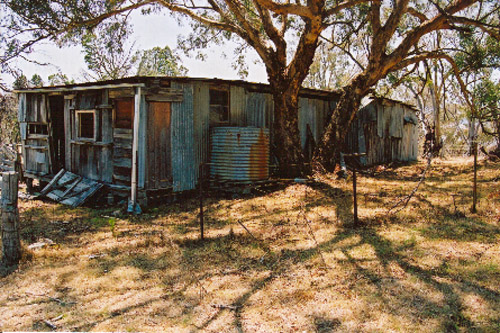 The photograph above is of the Shearing Shed at Tennent. It was clearly built as a small slab hut, and then extended. The photograph was taken in January 2002.
References
NPA.
KHA Reference No. 1904
Last updated 22 November 2020