Cotter River
Hut
Cotter House is on the Yaouk Trail in the Cotter River Catchment and may be approached from the Damsite or over the fire trail from Orroral Valley. Either way, it is a walk of about 6 km.
Brief History
An original slab hut was located here, having been first built in 1890. It was moved here in the 1930's.
The new hut was built after the slab hut was torn down in 1960. The new hut was built for the Cotter Catchment rangers by Don Greenwood, so that they could patrol the very sensitive and important rain catchment area for Canberra.
It is generally, but not always, used by rangers. Generally it is not available to visitors, and therefore is often locked.
Reference
KHA Reference Number is 1604 (1997).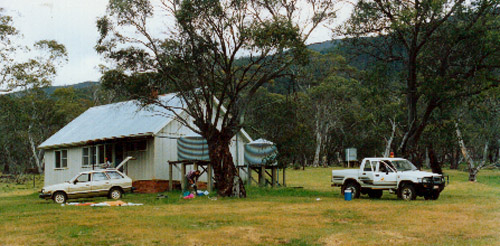 Last updated 22 November 2020