Farm Ridge
Homestead
Located at one of the key track intersections in Kosciusko NP, to the south of Round Mountain and north of Jagungal.
It is across the Doubtful River, on the Grey Mare FT.
Also known as Ryalls Huts. "Rial" is the correct spelling.
Brief History
Originally built in 1908 as a substantial homestead by JJ Riall (note not Royale) in 1908, this building contained four rooms (similar to Old Currango).
From Blossom Macdonald
I know for sure that my parents spent their honeymoon there in the summer of 1909-10.The story was told among my family that my mother's wedding ring was made from the gold panned by my father in the Doubtful River, though I am unable to verify that now. Through the kindness of the National Parks Rangers who took me and members of my family to the site in 2004 I can now recall that day as one of the best of my life. So much of our family history is tied up in those wonderful mountains and I do appreciate all the great work the K.H.A. is doing to save as many of the historic huts as possible."
Harold Hedger held the lease from 1943 and the three buildings were still standing in the 1960s, but finally succumbed to the super snow year of 1965. Prior to that it was used by fishermen, skiers and other tourists and was connected to Adaminaby by a telephone line. Bertie Schlink was a regular visitor.
This is a great pity, as the site would be ideal for a survival shelter, and also has considerable historical value. There is a lot of material and fabric of the original building still present.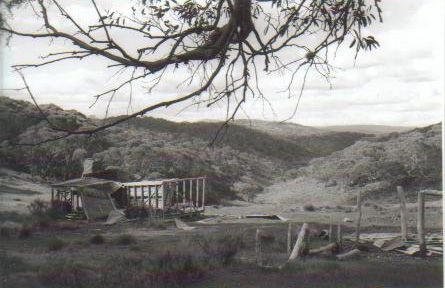 Photo: Reet Vallack, 1969
Construction
Weatherboards, pitched iron roof, four rooms, wooden floor, with stone and brick chimney.
References
KHA Reference number is 2316.
Hueneke Pp40, 79.
Blossom Macdonald (daughter of AJ Rial) - pers comm.