Rules Point
Hotel
Located at the intersection of Rules Point Road (fire trail) and the Snowy Highway. The ruins are still visible. A large battery was installed 100m to the East.
Brief History
The Rules Point Hotel was the centre of social life in the high country area for many years. It was a substantial building, constructed in 1910 and extended and licensed in 1915. The first licencees were Mr and Mrs Harris and a Mrs Cook.
From 1948 the guest house was run by the Prossers until 1958 for fishing and skiing. The building was demolished in the 1960's.
Construction
The hotel was a large weatherboard building, with an iron roof over older shingles. It was lined with pressed tin, a luxury in those days. There were wooden floors and brick fireplaces.
Caretakers - NPWS
References
KNP POM is L107.A.
Sue Prosser, relative - pers comm 2004.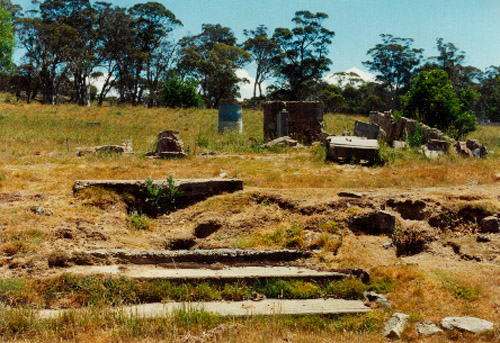 Photo: 1990
Last updated 24 November 2020