Richards Break
Hut
Also known as Toolong Range Hut
History
Famous for its six pyramidal dog kennels made of corrugated iron. It was still standing in the 1970's and until 2003 was classified as a "standing ruin". The fires of 2003 destroyed most of the remains.
Originally on this site was a "break" (or "brake"), a chock and log compound to house sheep at night which was formed by Tom Richards about 1920. This hut was built by Evan Woodhouse of Tumbarumba about 1941 to support grazing in the area.
The site was used in the late 1930's by Woodhouse's daughter, her new husband (of four days) and their daughter. They camped on the site for 3 months after the wedding, minding 4000 sheep. The hut was built about 30 meters from the campsite by Woodhouse in 1940s after the fires burnt out their property near Jingellic. The fireplace and chimney were built by their shepherds Beau and Arthur Day.
John Williams advises that the lease was taken up by a member of the Naughton family after the Woodhouse's.
Construction
Build over a pole frame, it had walls and roof of corrugated iron and a chimney built of timber and flattened iron. The floor was dirt.
References
Charles Warner - "the big list".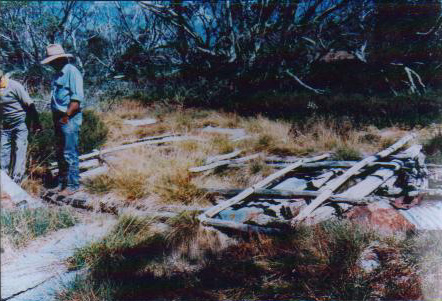 Photo: B. Aitchison, 1989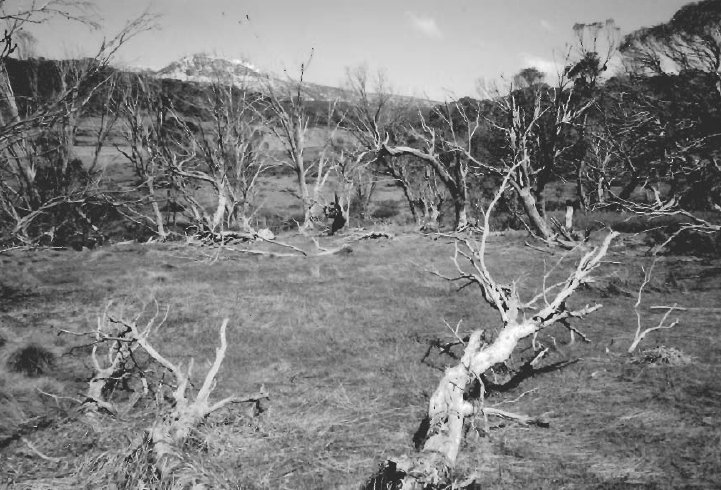 Photo: Di Thompson, 1993
Last updated 1 September, 2010