Jaanga
Hut
Demolished by NPWS in 1989.
Nothing remains.
History
Jaanga was built in 1976 using recycled materials by a Sydney bushwalking group led by Gordon Broome, on what was at that time freehold land owned by Ronald Flanagan bordering the park. The land was later purchased by Bryan Haig and the Lodge became involved in the dispute between Haig and NPWS. Fearful of development on the edge of the Jagungal Wilderness, the Government resumed the land under an old piece of railways legislation and added it to the KNP. The Lodge was vacated in 1986, at which time Kore Grunnsund salvaged metal sheeting from the exterior, and some partial demolition occurred. The remains seem to have been burnt by NPWS in the early 1990s.
It's located on the east side of the Munyang Range, overlooking the Gungarlin River valley. It was in open woodland on ground sloping down to the east. A steep ridgeline to the west provided weather protection from prevailing southerlies and westerlies.
It's a 1.2km walk across open grassland, along feint traces of old trail from management trail to Cesjacks. The site is difficult to identify. The track in from the fire trail at the saddle, shown on the 1980s topographic 25,000 map, is no longer fully evident. There are no ruins left or any relics as it's been totally cleaned.
Construction
Was a skiing lodge of several rooms of timber construction with timber and corrugated iron cladding.
Reference
"On the Edge of the Wilderness" by Bryan Haig.
pers. comm. R. Hookway June 1989.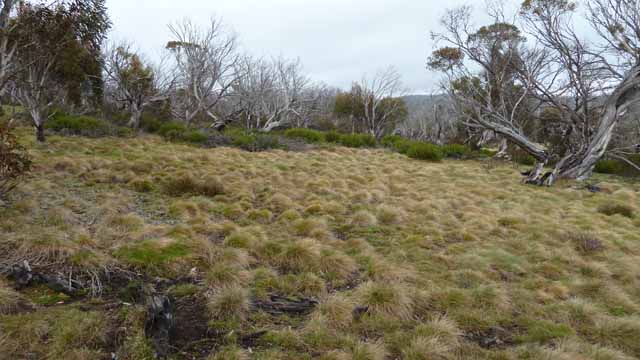 Last updated November 2016.