Soil Conservation
Hut
Was located a few hundred metres to the south of Blue Lake, in a very exposed position.
The person in the picture is Martin Stone.
Construction
The Soil Conservation hut was about the size of a regular house, with a total of eight rooms. The roof and walls were aluminium cladding, with an internal wooden floor, partially covered with linoleum. There were eight sliding windows. The kitchen and toilet were integrated into the building.
Brief History
The hut was purpose built by the NSW Soil Conservation Service in 1964, to house workers who were undertaking soil erosion control above the snow line. It was removed in 1984 when the work was complete. Today, the leveled area of snow grass is all that remains.
The hut was generally locked, but one window was always open, and became the "Door" to cross country skiers, for which the hut was ideally placed for skiing on the main range. It was reachable in about two hours from Charlotte's Pass.
The picture above was taken in August 1975, a good snow year. The party had tried to make the hut in a blizzard and being unable to find it, camped in a snow cave, less than 200m from the hut. The blizzard continued for eight days, with high winds and very low visibility.

Conservationists and skiiers alike, generally agree that the hut should have been removed, being so prominent and alien to the open wilderness landscape.
References
Hueneke Pp 8 and 11.
KNP POM number is L114.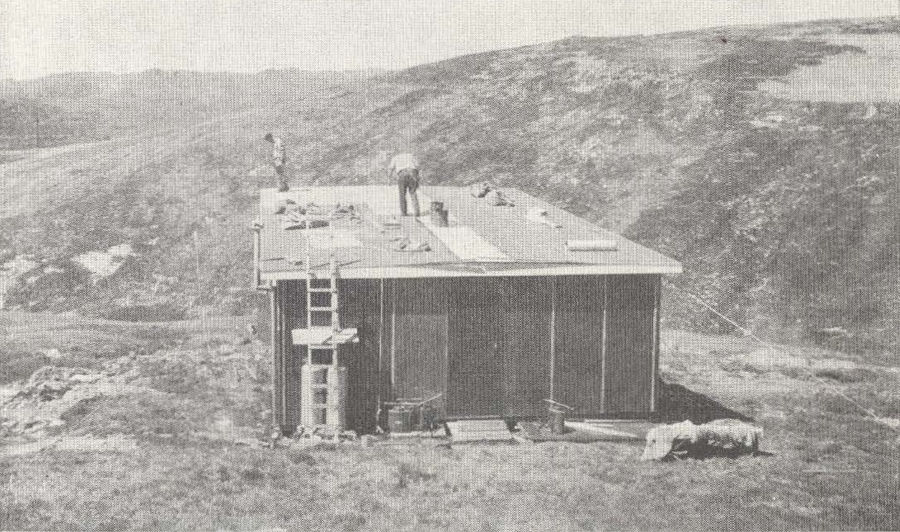 Last updated 28 November 2020